Weekly Meeting: March 25, 2021, Noon – 1pm
Guest Speaker Annika Blanke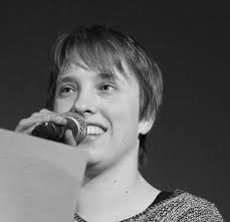 Topic: Slam Potetry
Annika Blanke:
I was born in 1984 and have been working as a high school teacher in Northern Germany (subjects: English and German) for the last 12 years now.
During my studies at the University of Osnabrueck I spent a semester abroad at the University of South Florida (USF) in Tampa, Florida where I took part in my first poetry slam-event in English.
Since then I have been a spoken word artist all over Germany, Austria and Switzerland (I also performed at the Nuyorican Poets Café in NYC) and havebeen the opening act of US-poet Andrea Gibson in Berlin in 2015. In 2019 I was invited by the German Embassy in Vienna to represent the Federal Republic of Germany in a poetry slam competition of the German-speaking countries at the Book Fair Vienna.
One of my favourite things that I focus on is the empowerment of young poetry slammers in my region(which will also be the main topic of my presentation).