The Rotary Club of Schenectady, established in 1918, celebrates nearly a century of service to others and our 70+ members are neighbors, business professionals, and community leaders who live and/or work throughout the City of Schenectady, New York. Our Rotary Club sponsors numerous charitable organizations locally and internationally, and we have a lot of fun doing it.
The Rotary Club of Schenectady is part of Rotary District 7190 which serves New York's Capital District and beyond.
We are part of a larger organization, Rotary International, a volunteer organization of 1.2 million business and professional leaders united worldwide to provide humanitarian service and help build good will and peace. About 33,000 Rotary clubs in more than 200 countries and geographical areas conduct projects to address today's challenges – including illiteracy, hunger, disease, poverty, lack of clean water, and environmental concerns – while encouraging high ethical standards in all vocations.
Why did you join the Schenectady Rotary Club?
Community service; give back/make a difference; help others; to volunteer; cause-oriented
Like-mindedness of the members; common values; "we make an impact – fulfills my purpose"
To get involved and learn more about the community
Business contacts; professional networking; to meet community leaders
Because someone asked me/a contact got me involved
The people, the programs and the activities; warm people
Why do you stay in the Schenectady Rotary Club?
Like-minded people stay together – "consciousness of kind"
As a retiree, Rotary, keeps me connected to the community; connections to the working community
"fun club," great speakers, camaraderie, closeness, friendships, good people; socialization, networking
Can make a contribution through our service projects; worthy organization completing good works
"The meeting is a bright spot in my week."
What do you like best about Rotary?
Great speakers; important programs; helps me learn more about the community
Cleaning the highway; service projects
"No matter where I go, it's a Rotary make-up!"
"I always leave with a smile, regardless of the stress I came in with."
"Rotary is a great spot in my week."
The people, friendships, camaraderie; socialization; decent people; fun; networking
Rotary make-ups when I travel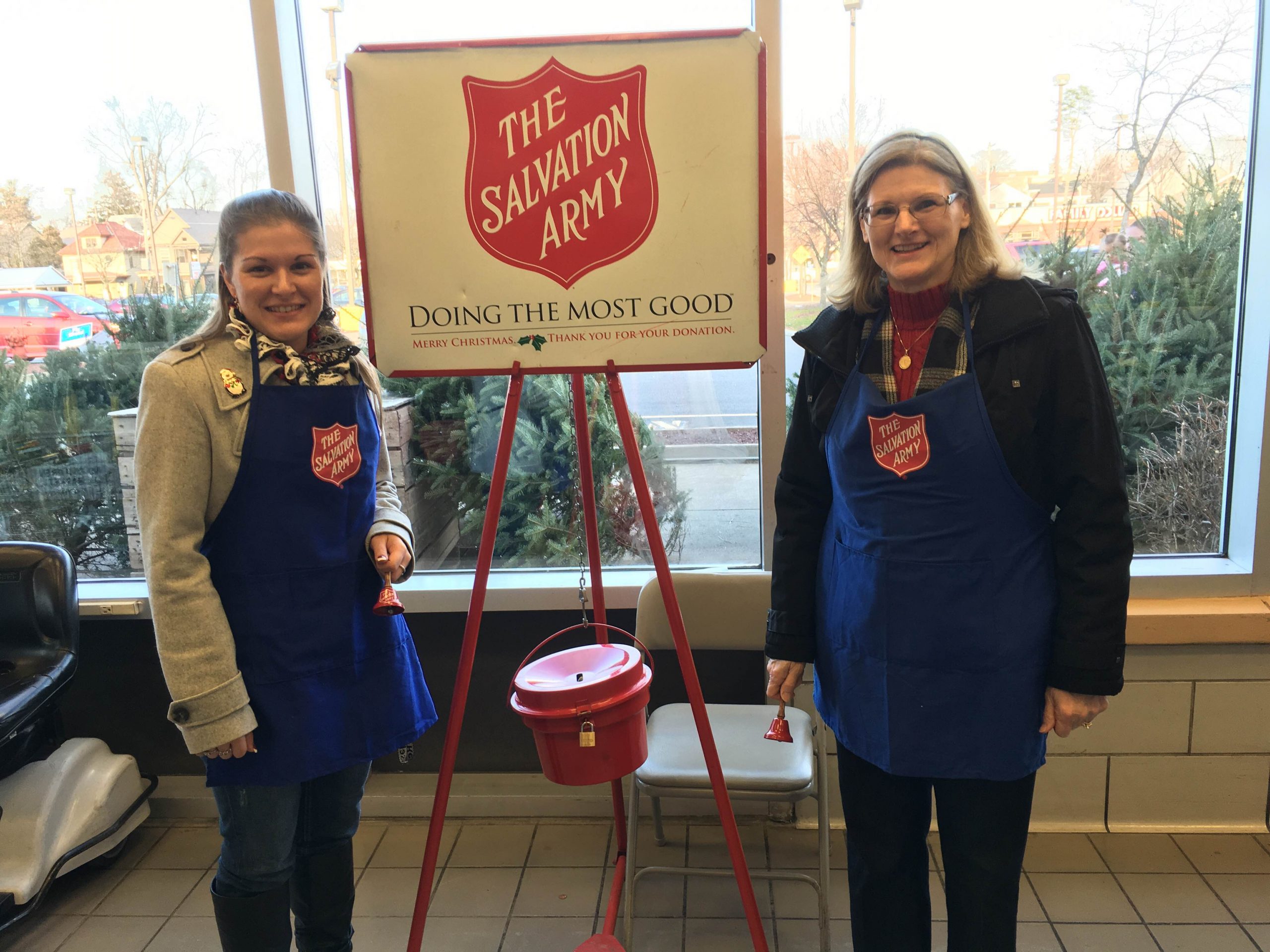 Courtney Moore (on left) and Vladia Boniewski are ringing bells for Salvation Army at the Schenectady Price Chopper