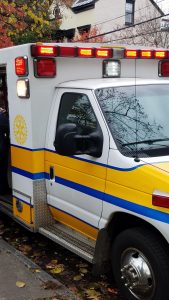 Rotarian Brian Merriam worked for over three years to fulfill the request of the Mayor of Carrefour, Haiti for an ambulance. The community of 600,000 were without a reliable ambulance for emergency medical services.
In late October 2019, Merriam received a call from Chris Hedlund of Mayo Clinic Ambulance that a decommissioned ambulance was available for donation. Merriam then flew to Wisconsin and drove the ambulance back to Schenectady accompanies by Hedlund.
Schenectady's Mohawk Ambulance Service met the ambulance upon arrival and donated over 1,500 lbs of supplies.
The ambulance will be delivered via cargo ship and is expected to arrive in Haiti in early December 2019.
Schenectady Rotary has a long-standing relation with Carrefour as the club has been delivering water filters to this community for over ten years. Currently Schenectady Rotary is committed to building a sustainable water delivery system to provide clean, drinkable water to the community of Matogou. See more information here: https://schenectadyrotary.org/haiti-water-project/