Schenectady Rotary
We are your neighbors. A diverse group of business leaders who connect to create a positive impact on the local and global community.
Cornhole for a Cause features a day-long tournament for professionals and amateurs alike, as well as an assortment of drawings, auctions, and retail vendors. Click to learn more!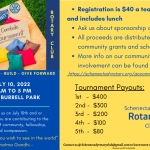 Schenectady Rotary Inaugural Corn Hole Tournament Contributing to Community, Fellowship, and Compassion Join us for this fun community event! REGISTER ONLINE: https://schenectadyrotary.rotary7190gives.org/cornhole2022DJ - Nicholas Cassius ClayLunch included CASH...